Due to the coronavirus measures, more people than ever are looking to switch to remote work. Something they can do from home now when they're accustomed to it. Because the idea is new to most people, we get a lot of queries about how to find remote work.
Well, let's take a look!
Start at the beginning
Of course, using search engines would be the obvious solution. However, that can be pretty overwhelming if you have never worked as a freelancer or checked out what's out there. There are different sites with very different reviews. Naturally, it's pretty easy to get lost in it and just give up on trying to find a remote job.
In order to prevent it, we'll go through the basics with you and get you started.
Job filters on "traditional" job boards
Firstly, you need to know that you can use the filter option on traditional job search sites. Those are the ones you would normally use to check out what is out there. Sometimes, companies place an advertisement for a job that can be or is a full-time remote position, just like they would do for any other position. So, we would definitely recommend going to your usual stops for a job search and giving it a go.
Remote work
Secondly, there are sites devoted to promoting remote work. Two examples would be https://remote.co/ and https://weworkremotely.com/. On these sites, you can search for jobs of different categories and see what the requirements are. Some require the candidate to be located in a specific country, but it is still a remote job because you will be working from home.
Freelance communities
When we talk about going remotely, we have to mention freelancers who have been doing this sort of thing for a while. We can't write an article about remote work without mentioning the biggest communities for freelancers out there: https://www.upwork.com/, https://www.peopleperhour.com/, and https://www.fiverr.com/. These sites are used by individuals who create accounts and look for jobs, but also businesses of all sizes that look for a service provider. Whatever your interest is, you can place an ad for yourself on these sites. One thing to keep in mind is that these sites could take a very small percentage of your earnings. This is a negligible amount since the platform is free to use and you can get in front of so many eyes.
There are many other sites that work similarly, for example, https://www.toptal.com/talent/apply.
Remote organizations
If you type "remote jobs" in Google, you will get a list of organizations that are referred to as "remote organizations".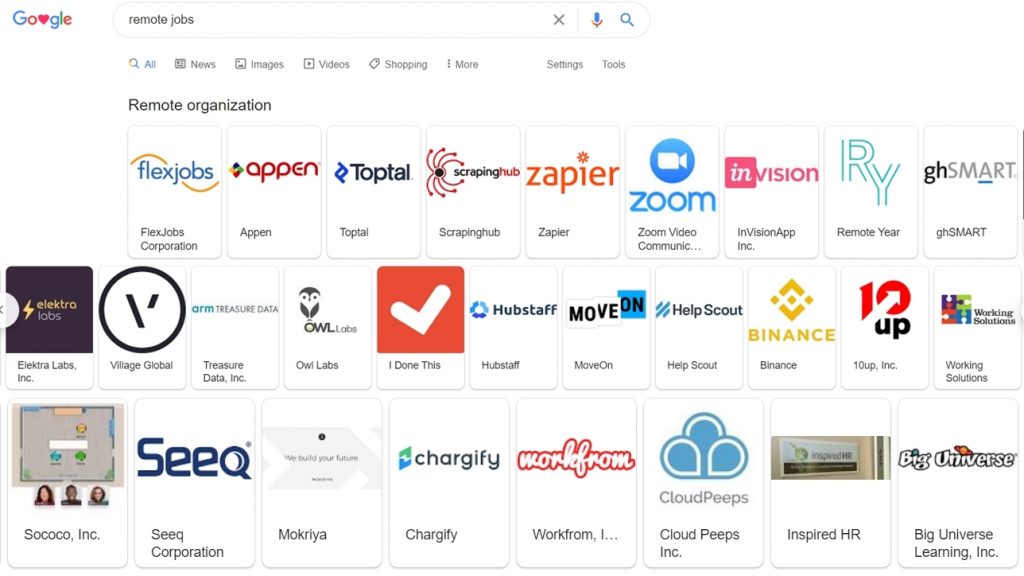 Each offers a work-from-anywhere option and on most sites, you have to sign up or create an account. There are some with a paid membership, but if you are serious about diving into remote work, it might not be a bad idea to invest in this.
Here are the links to some of these virtual companies: Aha!, Hubstaff, Seeq, 10up. Of course, there are more of that type of companies and not just that – more and more big tech giants are moving towards a remote model.
How can Linking Lines help?
By writing a professional CV and cover letter for your remote job application or by preparing you for the interview phase. If you need to talk to a professional about your options and future, you can also benefit from our career coaching services.
If you'd like to give CV writing a go yourself, it's never been easier: we've poured years of experience into an easy-to-follow, simple CV writing guide that you can get right here. Follow our writing principles and see how it positively affects your job search.
Let's get you started on a remote job!
We're here for all your career-related needs. If you need support, contact us now!